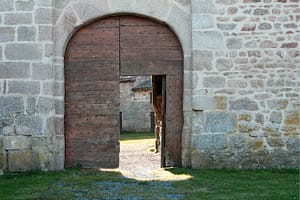 Doors and gates have always had two purposes: to let people IN and to keep people OUT. Certainly the very first purpose was to let people IN once you possessed a dwelling. But humanity is "fallen from grace through sin," so as we progressed, it was imperative to keep criminals OUT. Doors are a well-represented biblical image. There is a lot about doors and gates in the Bible. In fact, there are 273 mentions of doors in Scripture. This makes it one of the key symbols in the Bible. Maybe the most important mention of door/gate in Scripture is used by Jesus Christ Himself about Himself. In the Gospel of John 10:7, He says, "Very truly I tell you, I am the gate for the sheep.1New International Version Translations"
(John 10:7-10) – "Therefore Jesus said again, "Very truly I tell you, I am the gate for the sheep. All who have come before me are thieves and robbers, but the sheep have not listened to them. I am the gate; whoever enters through me will be saved. They will come in and go out and find pasture. The thief comes only to steal and kill and destroy; I have come that they may have life and have it to the full."
In the above verses we can see that there is a relationship between the sheep and their Shepherd. One of the hallmarks of the Good Shepherd, as well as those who are shepherds under Him, is that they are there to help the sheep. And the sheep know them. The sheep hear the shepherd's voice and recognize it. Since there is a relationship between the two sides, the sheep and the Shepherd, there is a peaceful co-existence, and a balance of authority between the sheep and Shepherd. In other words, each one knows their place within the organization and the sheep willingly follow the Shepherd. There is contentment and peace in the flock. But when a thief, a robber comes, and they will come, they are kept away by the Shepherd because their motives are destructive to the sheep under His protection.
This study could really end here. This is not a difficult concept to embrace. It is through Christ, our Shepherd, that we find our hope. He is the entry point, the gate (door) offering us eternal protection and inviting us to come into permanent fellowship with Him. However, for some reason, the door to find Him is hard to find, narrow, and some will not enter. They may be our friends, our family members, part of our communities, even our neighbors. So the question shifts to whether you and I have any responsibility to help people "find the Door, the Gate?"
(Matthew 7:13-14) – "Enter through the narrow gate. For wide is the gate and broad is the road that leads to destruction, and many enter through it. But small is the gate and narrow the road that leads to life, and only a few find it."
Furthermore, Jesus may even knock on the door of human hearts and minds, personally extending invitations to enter through Him. However, people may fear entry and not answer the invitation. Frightening thought!
(Revelation 3:20) – "Here I am! I stand at the door and knock. If anyone hears my voice and opens the door, I will come in and eat with that person, and they with me."
There is a poem on Lostpine.com called "I Stand by the Door." I hope you take a moment and click this link and read it. In all the twenty plus years of maintaining Lostpine.com, this poem does the best job in summarizing our purpose. The poem by Samuel Moor Shoemaker states the simple tasks of a "doorkeeper," someone who has decided that since they know where the Door is located, they would spend the remainder of their life helping others recognize that Christ is THAT door. Here are the ending verses to this poem:
As for me, I shall take my old accustomed place,
Near enough to God and hear Him, and know He is there,
But not so far from men as to not hear them,
And remember they are there too.
Where? Outside the door-
Thousands of them, millions of them.
But-more important for me–
One of them, two of them, ten of them,
Whose hands I am intended to put on the latch.
So I shall stand by the door and wait,
For those who seek it.
"I had rather be a doorkeeper…"
So I stand by the door.
While each human is called to listen to God's callings, to find Christ for ourselves, once we have found Him, please, please take the time to share Him with those closest to you. Especially share with those who need Him the most, those who do not know Him.
Why? The Calling for Sharing
(1 John 1:5) – "This is the message we have heard from him and declare to you: God is light; in him there is no darkness at all."

(1 Thessalonians 5:11) – "Therefore encourage one another and build each other up, just as in fact you are doing."

(Colossians 1:28) – "He is the one we proclaim, admonishing and teaching everyone with all wisdom, so that we may present everyone fully mature in Christ."

(Ephesians 2:10) – "For we are God's handiwork, created in Christ Jesus to do good works, which God prepared in advance for us to do."

(Exodus 9:16) – "But I have raised you up for this very purpose, that I might show you my power and that my name might be proclaimed in all the earth."

(Hebrews 2:12) – "He says, 'I will declare your name to my brothers and sisters; in the assembly I will sing your praises.'"

(Hebrews 4:12) – "For the word of God is alive and active. Sharper than any double-edged sword, it penetrates even to dividing soul and spirit, joints and marrow; it judges the thoughts and attitudes of the heart."

(Luke 9:2) – "and he sent them out to proclaim the kingdom of God and to heal the sick."

(Mark 16:15) – "He said to them, "Go into all the world and preach the gospel to all creation."

(Matthew 24:14) – "And this gospel of the kingdom will be preached in the whole world as a testimony"

(Matthew 5:13-16) – "You are the salt of the earth. But if the salt loses its saltiness, how can it be made salty again? It is no longer good for anything, except to be thrown out and trampled underfoot. You are the light of the world. A town built on a hill cannot be hidden. Neither do people light a lamp and put it under a bowl. Instead they put it on its stand, and it gives light to everyone in the house. In the same way, let your light shine before others, that they may see your good deeds and glorify your Father in heaven."

(Matthew 10:26-27) – "So do not be afraid of them, for there is nothing concealed that will not be disclosed or hidden that will not be made known. What I tell you in the dark, speak in the daylight; what is whispered in your ear, proclaim from the roofs."

(Psalm 9:11) – "Sing the praises of the Lord, enthroned in Zion; proclaim among the nations what he has done."

(Psalm 71:17) – "Since my youth, God, you have taught me, and to this day I declare your marvelous deeds."
There can be no greater duty for a Christian than to help those who are searching for Christ to find Him. Worse yet, many may have found the Him (the Door) but are frightened by what they do not know about Him. Your testimony to them can make all the difference. You may be the only Gospel they ever see! With gentleness, hold their hand, point them to the Door through your words and actions. Guide them to Heaven's gate and show them the way. Place their hand upon the latch. Then step back, stand near, for it is Christ who saves. Salvation does not come through our "Good Works," but from our love for God. The people we encounter are the beneficiaries of that love.
(Ephesians 2:8-10) – "For it is by grace you have been saved, through faith—and this is not from yourselves, it is the gift of God—not by works, so that no one can boast. For we are God's handiwork, created in Christ Jesus to do good works, which God prepared in advance for us to do."
Contemplations
Have you found the "Door?"

Ideas to Explore: Have you accepted Christ as your savior? Are you willing to share that experience with others? Do you believe that your testimony is of value to people around you?

What are your concerns about sharing your faith in Christ?

Ideas to Explore: Are you worried about what your "friends will think of you?" Are you concerned that the world will no longer like you? Are there physical threats and risks that you are concerned about?

Are you concerned that people you love will not be included in the "Kingdom of God?"

Ideas to Explore: Are you too shy to share with friends and family. Is sharing personal experiences embarrassing for you?  Do you accept that it is your responsibility to share your faith with others?

Can you give a testimony of faith in Christ?

Ideas to Explore: No matter how simple or complex you believe your faith walk has been, there is someone who can benefit from hearing it. Do you think you must have to experience a "knock off your horse" experience like the Apostle Paul had on the road to Damascus in order for your testimony to be impactful? 

Where do you want to spend the rest of your life?

Ideas to Explore: Living in a safe Christian environment where you are insulated from the world? In the world, among sinners where temptations attack you every moment? Where does God want you to live?

Everyone needs three people in their life: A Barnabas, someone to hold you accountable; a Paul, someone to mentor you in your faith; and a Timothy, someone who you will mentor in their faith.

Ideas to Explore: Who is your Barnabas, Paul and Timothy?
1

New International Version Translations