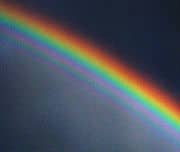 God's promise to Abraham was first spelled out in Genesis 12. Abraham, then 100 years old, married to Sara, who was 90 years old, was promised by God that their heirs would be like the stars in the night sky. God did carry through with His promise to Abraham and Sara. With that kind of track record, it is important to understand more about the "Great Promises" we have been given. There are many. This page is just a sampling of the assurances from our Creator.
The Apostle Paul points out in Galatians 3:16, that it was through Christ God intended to fulfill the promise to Abraham. Also in Acts 13:32-331NIV New International Version Translations, the Apostle says:
"We tell you the good news: What God promised our fathers he has fulfilled for us, their children, by raising up Jesus. As it is written in the second Psalm: 'You are my Son; today I have become your Father.'"
This section, entitled PROMISES is dedicated to the covenant that our great God has made with each of us.
1 Corinthians 10:13

His children will not be overtaken with temptation "No temptation has seized you except what is common to man. And God is faithful; he will not let you be tempted beyond what you can bear. But when you are tempted, he will also provide a way out so that you can stand up under it."

1 John 1:9

We will be forgiven for our transgressions "If we confess our sins, he is faithful and just and will forgive us our sins and purify us from all unrighteousness."

1 John 5:11-12

He gives us salvation "And this is the testimony: God has given us eternal life, and this life is in his Son. He who has the Son has life; he who does not have the Son of God does not have life."

2 Corinthians 12:19

His grace is sufficient for us "Have you been thinking all along that we have been defending ourselves to you? We have been speaking in the sight of God as those in Christ; and everything we do, dear friends, is for your strengthening."

Acts 2:32

Victory over death "God has raised this Jesus to life, and we are all witnesses of the fact."

Deuteronomy 31:6

Be strong and courageous. Do not be afraid or terrified because of them, for the Lord your God goes with you; he will never leave you nor forsake you.

Ephesians 3:17-19

So that Christ may dwell in your hearts through faith. And I pray that you, being rooted and established in love, may have power, together with all the Lord's holy people, to grasp how wide and long and high and deep is the love of Christ, and to know this love that surpasses knowledge "that you may be filled to the measure of all the fullness of God.

Ephesians 6:1-3

He shows us how to have a long life. Children, obey your parents in the Lord, for this is right. "Honor your father and mother" which is the first commandment with a promise "that it may go well with you and that you may enjoy long life on the earth."

Isaiah 2:3

He teaches us what we need to know "He will teach us His ways, so that we may walk in his paths."

Isaiah 40:29-31

He gives power and strength to the weak "He gives strength to the weary and increases the power of the weak. Even youths grow tired and weary, and young men stumble and fall; but those who hope in the LORD will renew their strength. They will soar on wings like eagles; they will run and not grow weary, they will walk and not be faint."

Isaiah 41:10

So do not fear, for I am with you; do not be dismayed, for I am your God. I will strengthen you and help you; I will uphold you with my righteous right hand.

Isaiah 41:10

He gives us strength "So do not fear, for I am with you; do not be dismayed, for I am your God. I will strengthen you and help you; I will uphold you with my righteous right hand."

Isaiah 43:2

He gives us safety "When you pass through the waters, I will be with you; and when you pass through the rivers, they will not sweep over you. When you walk through the fire, you will not be burned; the flames will not set you ablaze."

Isaiah 46:4

He still cares for you even when you are old "Even to your old age and gray hairs I am he, I am he who will sustain you. I have made you and I will carry you; I will sustain you and I will rescue you."

James 4:8

He can provide companionship for the lonely if we are willing to change "Come near to God and he will come near to you. Wash your hands, you sinners, and purify your hearts, you double-minded."

Jeremiah 17:7-8

"But blessed is the one who trusts in the Lord, whose confidence is in him. They will be like a tree planted by the water that sends out its roots by the stream. It does not fear when heat comes; its leaves are always green. It has no worries in a year of drought and never fails to bear fruit."

Jeremiah 29:11

He gives us hope "For I know the plans I have for you," declares the Lord, "plans to prosper you and not to harm you, plans to give you hope and a future."

Jeremiah 29:11

"For I know the plans I have for you," declares the LORD, "plans to prosper you and not to harm you, plans to give you hope and a future."

Jeremiah 31:3

The Lord appeared to us in the past, saying:  I have loved you with an everlasting love; I have drawn you with unfailing kindness."

Jeremiah 33:3

"Call to me and I will answer you and tell you great and unsearchable things you do not know."

John 10:27-28

His people will receive eternal life "My sheep listen to my voice; I know them, and they follow me. I give them eternal life, and they shall never perish; no one can snatch them out of my hand."

John 14:27

He gives us peace "Peace I leave with you; my peace I give you. I do not give to you as the world gives. Do not let your hearts be troubled and do not be afraid."

John 16:24

He will answer prayers "Until now you have not asked for anything in my name. Ask and you will receive, and your joy will be complete."

John 3:16

He gives us the roadmap to eternity "For God so loved the world that he gave his one and only Son, that whoever believes in him shall not perish but have eternal life."

John 6:37

We will never fall out of God's favor "All that the Father gives me will come to me, and whoever comes to me I will never drive away."

Mark 16:16

Those who believe in Jesus and are baptized for the forgiveness of sins will be saved "Whoever believes and is baptized will be saved, but whoever does not believe will be condemned."

Matthew 11:28

"Come to me, all you who are weary and burdened, and I will give you rest."

Matthew 21:22

He gives us prayer "If you believe, you will receive whatever you ask for in prayer."

Philippians 4:13

I can do all this through him who gives me strength.

Philippians 4:19

He will supply every need we have "And my God will meet all your needs according to his glorious riches in Christ Jesus."

Philippians 4:6-7

"The Lord is near.  Do not be anxious about anything, but in every situation, by prayer and petition, with thanksgiving, present your requests to God. And the peace of God, which transcends all understanding, will guard your hearts and your minds in Christ Jesus."

Proverbs 2:1, 5-6

He shows us where to find wisdom "My son, if you accept my words and store up my commands within you," ..... "then you will understand the fear of the LORD and find the knowledge of God. For the LORD gives wisdom, and from his mouth come knowledge and understanding."

Proverbs 3:5-6

He promises to guide us "Trust in the LORD with all your heart and lean not on your own understanding; in all your ways acknowledge him, and he will make your paths straight."

Psalm 115:12-13

He gives us many blessings "He will bless those who fear the Lord - small and great alike."

Psalm 145:9

He is our companion and is compassionate "The Lord is good to all; He has compassion on all He has made."

Psalm 34:19

He provides us deliverance "A righteous man may have many troubles, but the LORD delivers him from them all;"

Psalm 9:9

He will be the refuge for the oppressed "The LORD is a refuge for the oppressed, a stronghold in times of trouble."

Revelation 21:3-4

We will be with Him forever "And I heard a loud voice from the throne saying, "Now the dwelling of God is with men, and he will live with them. They will be his people, and God himself will be with them and be their God. He will wipe every tear from their eyes. There will be no more death or mourning or crying or pain, for the old order of things has passed away."

Romans 8:28

All things work together for good to those who love and serve Him faithfully "And we know that in all things God works for the good of those who love him, who have been called according to his purpose."
1

NIV New International Version Translations