It is with great admiration and love that I read about the history of our forefathers. Books like "1776" by David McCollough, "The War that Made America: A Short History of the French and Indian War" By Fred Anderson, even the little known writings of Joseph Plumb Martin, a young 15 year old minister's son whose journal documented the hardships of the common revolutionary soldier, have taken me back to times and places where honor, patriotism and faith seem to have flourished. It is this interest in history that led me to join a group of likeminded people, a group of historical reenactors, who not only enjoy history but enjoy making it come alive again.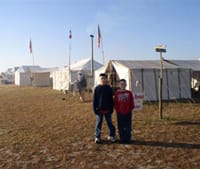 Years ago, I was looking for activities to share with my two grandsons, then 6 and 9 years old, I discovered a wonderful group of people, who have spent over 45 years meeting, fundraising, sharing skills and living history. Through the efforts of the Florida Frontiersmen, over $40,000 has been raised and given to local high school students in the form of college scholarships. Today, this non-profit organization owns 323 acres of land in Florida, operates debt-free, improves the land each year and hosts an event called the "Alafia River Rendezvous." The event, held the third week of January, provides an opportunity for over 1,500 adults and several hundred children to set up a temporary community based on their interest in what life would have been like prior to 1840 (the 18th century). Why 1840? Well this date allows for the inclusion of our Indian and Early American cultures but sets aside those times of civil and modern warfare. It is also believed that the last rendezvous for mountain men was held around that time in Wind River Valley near Yellowstone. The Alafia River Rendezvous a modern day version of that historical event. Alafia is open to the public and it is not unusual to host up to 10,000 visitors and school children.
My grandson's and I began to attend the Alafia River Rendezvous as visitors. We walked among the tents, the many vendors, looking and learning about life in another century. After that first Alafia, I marveled at the experience of my grandson's watching someone start a fire with two sticks. They still remember watching a cobbler make shoes by stitching leather pieces together. This event became a favorite on our schedule of fun things to do. But it was just after finishing our third Alafia as a visitor that I asked my grandson's if they would like to be part of this. "We can do that?" was the response. "Yes we can," I said and the rest so they say is "history."
When camping today, canvas is the building material of choice. Primitive tents and tee pees are set up to form a community of people who demonstrate a host of skills such as blacksmithing, spinning, weaving, wood carving, rifle making, tanning, cobbling, tin smithing, copper smithing, fabric dying, beading, sewing, and the list goes on and on. Camp life centers around cooking over an open fire, period music, story telling, archery, black powder shooting, highland games, and a great Indian Pow Wow. The Metis' Indians camp with us and are active members of the Florida Frontiersmen. One of the favorite days for me is the day we open our site up for school tours. Every year, over a 1,000 children wonder through the grounds on a day dedicated to them. They experience first hand what they only have seen on the pages of books in their schools.
So where is this lantern story? Well, it starts here.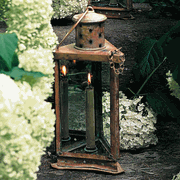 When you walk about on over 300 acres and there is no electricity, lighting is by candles. I had spotted a lantern in a catalog and my wife had remembered it. Low and behold one Christmas, a copper lantern appeared under the tree. It came from the Monticello Foundation, a group that has restored and maintains the home of Thomas Jefferson. The lantern was described as a copy of one found on Thomas Jefferson's estate. It was large, 16 inches high, 8 inches wide and 5 inches deep, with a handle. It was beautiful. Out I went on our next Alafia experience and I was sure that I had the best lantern there. But I was quick to learn much more about lanterns and of course, much more about Thomas Jefferson and our God.
The Monticello Lantern has a mirror in the back and is shaped in a triangle. Candle light reflects off the mirror and is projected outward. I also noticed that the handle of the lantern was placed so that you could not hang it on a wall. It was 90 degrees in the wrong direction for that purpose. So the lantern was meant to be held in your hand. As you walked, the mirror was perpendicular to the handle and light projected forward toward your destination. Yes, it was an Early American flashlight.
It is fun to think that our great leader Jefferson might have taken a late night walk, to clear his thoughts when he was authoring that most famous document, "The Unanimous Declaration of the Thirteen United States of America." We know that Jefferson often played the violin to help words flow from thought to paper. A nice evening walk could have been just as effective.
As I learned more about Thomas Jefferson, I found out that claim he attempt to rewrite his own Bible. Jefferson's purpose was wholesome enough, wanting to print a short summary translated in the native tongue of a western tribe. He just summarized the original Bible, the one probably entitled "1611 King James Bible" and reordered events around the life of Jesus. The 1611 Bibles were printed in England and shipped here. America did not have the infrastructure to publish something as complex as a Bible.
I find it most interesting that someone as great as Thomas Jefferson would think he could summarize the Bible. Many of us still attempt to do that today. Rather than accepting God's words as God gave them to us, we like to pick and choose a few parts that seen to make the most sense to us. In a way, it is nice to know that our forefathers, our great leaders were just like us, struggling to understand and accept the teachings of our God. I think that is why Thomas Jefferson was able to write a Declaration with such foresight. He knew deep down inside that the threat to any Declaration, the one about to be set forth for the New America or even the one for a human soul, can always be rewritten to suit someone else's desires. What is most comforting is that our early leaders recognized that there was a God and that without God, freedom cannot not exist. They recognized certain inalienable rights that no man could take away (rewrite). This understanding manifests itself into a freedom that is unique in the world. It is what makes our country great and gives us the strength to overcome the errors of judgment that come again and again from our human leaders.
So let's go back to the Alafia River Rendezvous and take a walk with that 18th century flashlight. What is it that God can teach us with a candle? Well, the first thing you understand is what God meant in Scriptures. Our modern world is changing things and we are loosing so many of the meanings that were evident to the people during the time of our Biblical History. Take King David's Psalm 119:105-106
Your word is a lamp to my feet and a light for my path. I have taken an oath and confirmed it, that I will follow your righteous laws.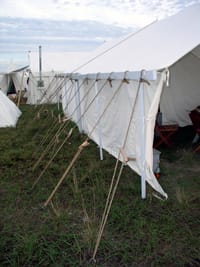 What you learn at Alafia is that when you walk with a lantern, one candle in power, you only see a few feet ahead. You never really see your destination. You look immediately in front of you and you walk in faith that you can recognize the path. This is most important when you consider that the over 1,000 tents have stakes and ropes that stick out to hold them in the wind. This adds up to ten's of thousands of stakes and ropes everywhere you walk. One of those stakes always seems to want to jump out and snare your leg, especially in the dark. So you walk carefully. Now look back to that Psalm. Isn't that what is being said? You will not always see your destination but, instead, you will find in God's Light, what you need to know to avoid the inevitable traps of life (those tent stakes). Of course the light of men today is found in our Savior (John 1:1-5)
In the beginning was the Word, and the Word was with God, and the Word was God. He was with God in the beginning. Through him all things were made; without him nothing was made that has been made. In him was life, and that life was the light of men. The light shines in the darkness, but the darkness has not understood it.
Too bad it takes going back to a simpler life to see this lesson. Street lights, high power flash lights, night vision goggles all make us think we can move swiftly through the night to any destination of our choosing. God says, however, "just follow my Words, follow My Son, My Lamp for your feet, and you will arrive at My destination for you, safely."