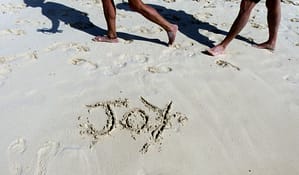 "Happiness depends on ourselves" says Aristotle, calling happiness as a central purpose of human life and a goal in itself. Aristotle was convinced that a genuinely happy life required the fulfillment of a broad range of conditions, including physical as well as mental well-being. He would argue that virtue is achieved by maintaining the Mean, which is the balance between two excesses.  We can find further evidence of the importance of happiness because it would be enshrined in the United States Declaration of Independence where it is stated, "Life, Liberty and the pursuit of Happiness." are every persons rights. It is common to think of happiness as being dependent upon an experience or other external stimulus. When circumstances are positive, happiness results. When circumstances change, happiness disappears. We can be happy for many reasons. Society is most happy when the consequences for wrongdoings are overlooked and undeserved receive abundant generosity. The thief is happy not to be caught and the hungry person is happy to be given food and warm shelter. Happiness, therefore, can serve everyone and has very little to do with God Himself. Happiness is uniquely human and temporary as is humanity itself. 
There are several different Hebrew and Greek root words that can be translated as "happy," "joy," "rejoice," and "glad." In fact, the Hebrew esher can be translated as "happiness" or "blessedness." This word is used in passages like Deuteronomy 33:29 where Moses tells the Israelites, "Blessed are you, Israel! Who is like you, a people saved by the Lord? He is your shield and helper and your glorious sword. Your enemies will cower before you, and you will tread on their heights."1NIV New International Version Translations It is also used in Psalm 1:1: "Blessed is the one who does not walk in step with the wicked or stand in the way that sinners take or sit in the company of mockers,".
Similarly, the Greek text,  makarios can be translated as "blessed" or "happy." This is the Greek word used in the beatitudes. It is used in Luke 1:45 when Elizabeth tells Mary, "Blessed is she who has believed that the Lord would fulfill his promises to her!" and in Luke 12 , Jesus' parable about being ready: "The Lord answered, "Who then is the faithful and wise manager, whom the master puts in charge of his servants to give them their food allowance at the proper time? It will be good for that servant whom the master finds doing so when he returns. Truly I tell you, he will put him in charge of all his possessions." (Luke 12:42–44).
It is easy to conclude that happiness is a good thing to have in your life. Happiness is worth pursuing and worth keeping. Happiness is associated with a circumstantially driven, fleeting, and somewhat shallow set of emotions. It is different from joy but attempting to make a clear and hard distinction between happiness and joy should not the point in life. Yes, joyful people express happiness. However, our pursuit should be in search of true and lasting joy, and that cannot be achieved without a relationship with God through Jesus Christ. As a quick example, Psalm 32 talks about the man whose sin is forgiven as being blessed (or happy). Psalm 84:12 says, "Lord Almighty, blessed is the one who trusts in you!" Referring to believers. First Peter 1:8 says, "Though you have not seen him, you love him; and even though you do not see him now, you believe in him and are filled with an inexpressible and glorious joy," Our joy is dependent upon the truth of Jesus Christ and His presence in our lives is a source of joy and that truth is certainly something worth pursuing.
Let us recap. Happiness is a reaction to something great. Joy is the product of someone great. Let us never forget that difference, or fail to pursue both happiness and joy as fully as we can on this earth. Merriam Webster defines happiness as "a state of well-being and contentment; a pleasurable or satisfying experience." Whereas joy is specifically stated, even in the dictionary, as "the emotion evoked by well-being, success, or good fortune or by the prospect of possessing what one desires; the expression or exhibition of such emotion."  Joy is rooted in who God is. Job 33:4 says, "The Spirit of God has made me; the breath of the Almighty gives me life.", Our God is fair, compassionate, and all-knowing. His ways are not our ways and His thoughts are not our thoughts. Job possessed the wisdom to know God's character, and a strong faith to hold onto what he knew to get him through difficult times.
Trials of any kind aren't joyful themselves. However, all trials eventually end and they end more quickly when we understand who God is, and how He works for all things for good. We also understand who God is much better through Jesus Christ. The Apostle James tries to tell us that "because you know that the testing of your faith produces perseverance.  Let perseverance finish its work so that you may be mature and complete, not lacking anything." (James 1:3-4). He then goes on to write about wisdom, and tells us to ask God for it when we are lacking. Wisdom allows us to wade through trials of many kinds, and find our God.  Wisdom may even help us avoid a few trials too.
Are you ready now to try to answer a really hard question, "What does joy look like to you?" Stop for a minute and think about that question. Can you describe joy? For me, I was drawn to the testimony of a man named Pat. He was a neighbor, a family man, a small business owner, a Christian. We had worked together on a small business venture where I got to know him as a person of faith. He was never shy about sharing his love for Jesus and his dependency on Him for hope. Then things suddenly changed. Pat was diagnosed with a terminal disease. There were many stays in the hospital and eventually all treatments proved futile. My memory of my last visit with Pat and his hug goodbye was full of the hope he had in the resurrection. His joy was so great that my hope was strengthened by his very presence. Yes, Pat died leaving a wonderful wife and children. They did not find much happiness in his passing. However, Pat's strong faith and his testimony provided the strength for all who knew him to set their sadness aside. Everyone that Pat had encountered on his journey with death were changed for the better by his joy and love for God. Your answer may be different. Joy is always personal and deep.
Joy appears several hundred times in the English Bible.  The Apostle Paul wrote to the Thessalonians telling them to  "Rejoice always, pray continually,  give thanks in all circumstances; for this is God's will for you in Christ Jesus." (1 Thessalonians 5:16-18).  It will be remembering who God is and what He has done for us in the past, refocusing our thoughts to align with His truth, and choosing to be grateful and praise God , even in tough times, that ignites the Spirit of God living in every believer. Galatians 5:22-23 reads, "But the fruit of the Spirit is love, joy, peace, forbearance, kindness, goodness, faithfulness, gentleness and self-control. Against such things there is no law." Our Savior Jesus defeated death so we can live in happiness and in joy.
Did Aristotle get happiness right? Is it really balancing two excesses? It seems to me that our Bible tells us that the root of happiness is really joy. Furthermore, joy is not a balance between two things but a full commitment to one person. Jesus did not come to help us get along, or teach us to take care of the poor, or to restore "social justice."  Jesus did not come to make us happy. God had already sent many before with the kind of advice we need to hear, and there was no point in His personally coming down merely to repeat what had already been said. No, Jesus came for a different reason. Jesus came to show us the very nature of God and to remove your sin and guilt in life. Jesus came to point your journey toward the path of Truth. As the Apostle John wrote, "I have no greater joy than to hear that my children are walking in the truth." (3 John 1:4). Yes, Jesus came to bring you Joy!  There can be no real joy without hope and no real hope without Jesus. 
Contemplations
What makes you happy?

Ideas to Explore: Of the items to consider for your list, can people really control them themselves? Of the items chosen that make us happy, how lasting are they? Do any of the items on your list make someone else unhappy? Were any of them based on negative things like getting away with something? Does controlling the behavior of others bring you happiness?

Would the list of what makes someone happy be different whether they were Christian or not?

Ideas to Explore: Should there be a difference, if not, why? Is happiness really universal among nations, peoples, religions? What are the commonalities among things that make people happy? Is there a minimum to what it takes to be happy? What are the non-material things on a happiness list? Did the Bill of Rights get the list right?

What were the most joyful experiences you have ever had?

Ideas to Explore: Why did you call them Joyful instead of just happy moments? Were these life changing? In any of these joyful moments, were you drawn closer to God? Why? Are they still joyful in your memory?

What are the risks of just pursuing happiness and not joy?

Ideas to Explore: Can we find lasting happiness without God? Why is it that Jesus can bring  joy to this world? What are the elements of your faith that make you happy versus bring you joy?

Can you be joyful without being happy?

Ideas to Explore: Where have you seen examples of people without physical happiness but seemingly joyful? Is the pursuit of happiness really a human right or is it the pursuit of God that is our right? What should our response be when we encounter conditions where people cannot pursue their happiness? How can joy be passed on to others?
1

NIV New International Version Translations